"Sustainability also means taking care of your clothes."
Graphic consultant Dominique Piers on her love for fashion
You've been working in the graphics sector for almost 30 years, twenty-two of which have been spent at Drukkerij De Maertelaere. To say that you're hooked on printing is perhaps an understatement.
"Maybe so." (laughs) "I adore printed materials and especially books: art books, look books, catalogues ... It's one of the reasons why I love travelling to Milan or Paris, because I can collect all the printed items produced by the different fashion houses. After a visit to a museum, you'll invariably find me in the bookshop. There's nothing like getting your hands on an art book with a unique finish."
Despite digitalisation, you're still passionate about printing. Why should contemporary brands strive to keep the presses rolling?
"A catchy print tells a story. By combining artistic skills such as image, typography and language and special papers, textures and finishes, you reflect emotions in a very specific way. When you touch a piece of paper, all your senses are stimulated, even the smell of paper and ink contributes to the experience. Who doesn't bury their nose in the pages of a new book? Delightful! Moreover, it's been proven that with print the message is remembered better and longer, not to mention its reputation for being more reliable."
In recent years, the graphics sector has acquired negative connotations: that it's unsustainable and bad for the environment. Do you feel this is justified?
"I think it's very unfortunate. It's a myth that our sector is the largest consumer of wood fibre. Nothing could be further from the truth: large tree trunks are only used in the construction sector and wood industry for furniture, among other things. Only the smaller branches and twigs that produce finer fibres can be used in paper manufacture.
Did you know that in Europe only 13% of the wood extracted from forests is used for paper and cardboard production? The companies in the Belgian paper industry prefer to work with certified wood. This means it comes from sustainably managed forests where respect for the ecosystem and the local community is central."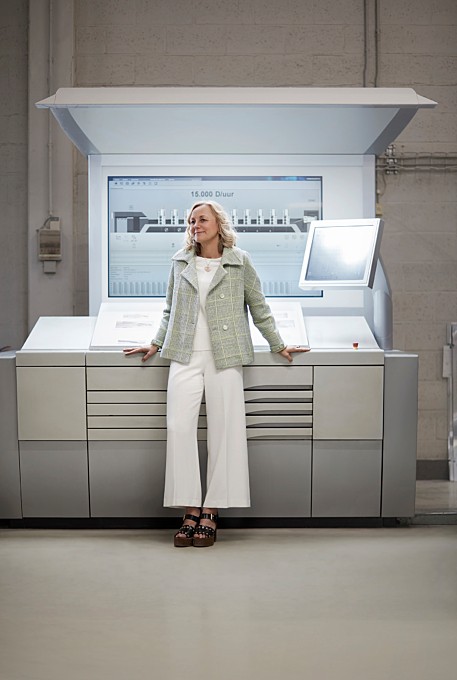 What steps is Drukkerij De Maertelaere taking in this respect?
"We're trying to reduce our ecological footprint to the absolute minimum. For example, we work exclusively with vegetable-based inks and vegetable-based non-volatile detergents. We're also an FSC-certified® printing company. The Forest Stewardship Council awarded us this recognition because we work with paper products carrying the FSC® label. And in so doing, we're directly contributing to the responsible management of forests worldwide. We also print on chlorine-free bleached paper as standard and take great care not to generate waste. If we do have a large batch of wastepaper, we process it for internal use and turn it into memo pads and office printing paper.
But sustainable printing goes far beyond environmentally friendly inks and papers. It's about striking a responsible balance between the financial, social and ecological aspects of our business. We're working on this every day as well.
How does this translate into your job as a graphic consultant?
"I love to look for sustainable paper types and can talk to customers about them for hours. This, in part, is why I still find the work so exciting and varied, even after all these years."
You mentioned earlier your love for printed materials relating to fashion. Are you a fashion afficionado yourself?
"Yes, fashion is extremely important in my life. The quote 'Yes, I'm a shoeaholic. No, I don't need help' runs through my bones. (laughs) "When it comes to clothing, I have a weakness for white blouses, baggy trousers, cashmere and lingerie.
How would you describe your personal style?
"I like different styles for different occasions, which is why I dress in lots of different ways: chic, cool, urban, classic, bohemian, casual, edgy... You can find it all in my wardrobe, which my daughter likes to call her 'boutique'. But the items are invariably feminine and ideally with a twist.
So, Furore's feminine style is right up your street?
"Definitely, but their timeless character and the comfort factor is also very appealing. I love the mix of both sober and graphic designs in the collections. Furore strikes the perfect balance between simple forms and luxurious fabrics and materials. It's exclusive fashion, whereby creativity and experience are central, and this matches my personality."
Is sustainability important to you in fashion as well?
"Absolutely. I always choose quality over quantity and consciously shop at brands and boutiques that prioritise sustainability and humane working conditions. Since COVID-19, I've tried to encourage everyone (especially my children) to choose Belgian brands and to shop at local retailers.
But sustainability also means taking care of your clothes and shoes so that they last. For example, I have a pair of Chloé shoes that I've been wearing for years but they still look brand new. My daughter recently borrowed the Cividini trousers that I wore to her christening; and she's about to turn nineteen.
How important is fashion to you in everyday life?
"I always choose my look very consciously, regardless of the occasion. If you wear something you feel good in, you automatically radiate self-confidence and resilience. I've become even more conscious of this during the pandemic, simply because we've already been deprived of so much. Let's at least pamper ourselves with some nice clothes.
"Sustainability also means taking care of your clothes."
How would you describe your professional look?
"Even when dressing for business, that edgy or tough side is present and I always choose natural make-up. There's no strategy behind it, this is who I am. Even for an online meeting today, I'll pull out my trouser suit! Or at least a blazer."
Do you think about the other people sitting across the table? Do you dress differently for men than you might for women?
"No, I never differentiate. I always dress for business. It's nice to save all the other clothes for different occasions." (laughs)
Furore wants to empower women. Are there any women you look up to? Who inspires you?
"I look up to a great deal of women. What they all have in common is that they're happy, enthusiastic and committed to what they do and who they are. The same goes for Veerle and Elke Baert, the two women behind Furore, and their highly motivated team. You can feel the dynamism as soon as you enter the building.
Do you have any tips for young entrepreneurial women?
"Always be yourself. Don't lose your enthusiasm. Enthusiasm is not only important for starters, but for everyone. And always be guided by common sense."
Shop Dominique's favorites