No time to waste. Our planet is heating up faster than ever, which leads to various challenges. We really have no time to lose! There is no time left for even more waste, squandering or surpluses. If there was ever a time when sustainable design, production and purchasing practices were a dire necessity, it is now. We must reuse and rethink in order to make a positive impact in helping to bring about the transition from fast to slow fashion.
Reuse. Rethink.
Elke Baert expertly fashioned the fabrics and colours from previous editions into a collection that beautifully supplements her earlier work. This led to innovative combinations in which not a single piece can ever be considered out of fashion or obsolete. No special sales. No trends. Instead: the very essence of timelessness. The collection is further supplemented by several new styles that lend a refreshing touch to the existing Furore wardrobe, which transcends the concept of seasonal trends in fashion with its various editions. The return of fabrics that were used in previous editions in colours such as pumpkin and navy and Furore's signature chequered pattern in champagne only serve to emphasise the timelessness of the collection.
The Limited
Waste is not something Elke Baert feels should necessarily be discarded.. What about those gorgeous shavings that are left over after sharpening a pencil? The colour of the pencil is shown off to its best advantage here in a completely new way; whimsical curlicues fill a blank space and invite you to create something beautiful with them.
The jacquard fabric, woven and processed in France exclusively for Furore, refers to this idea with a playful nod through its vivid colours and 'hairy' texture. It is available in two colour versions. Elke Baert's conceptualisation of a pile of pencil shavings is palpable in the Branzo top, the Sienna skirt and the Patita pullover. The hues selected for these items allow for perfect mixing and matching with fabrics and colours from earlier editions.
The limited-edition Bini top and Dinira dress feature a decorative detail in front with contrasting piping that brings to mind the whimsical curlicues that are the colourful by-product of sharpening a pencil.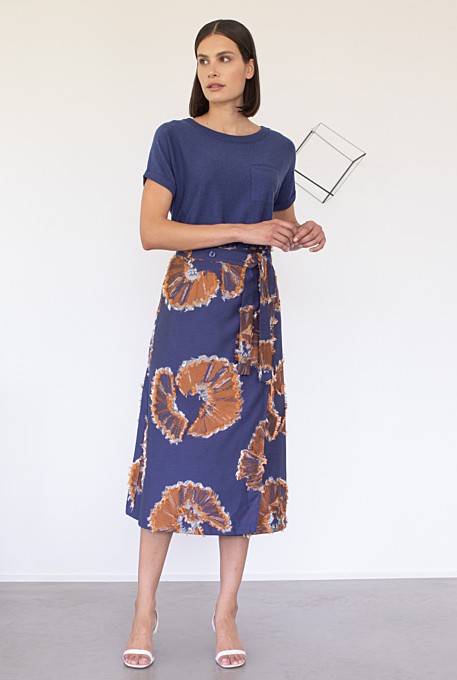 The interplay of lines portrayed by a bunch of pencils dancing across a page was given concrete shape by Elke Baert in a chequered fabric in violet and pencil wood – inspired by the graphite tip of a pencil – with finely drawn lines in a warm shade of brown. Pumpkin, violet, lilac and light blue make up the reusable foundation of a beautiful set of pencils. And, to be honest: whose eyes don't light up when opening a box of freshly sharpened pencils, bursting with vivid colours?
Just like in the previous editions, the colours are intended to be set off against white and off-white, which are also the core shades for 'The Official', Furore's 'Never Out of Stock' line. This time, these hues are intended to symbolise a blank page of paper on which you can unleash your creativity in infinite colours. The limited edition Patita knit pullover in off-white, with its proverbial 'pencil shavings', is sure to speak to the imagination! Elke Baert used a mix of new and left-over yarns in lilac and multi-coloured pencil wood on the 'blank page' to emphasise the message behind the collection: 'There is no time to lose'. Why always make something out of nothing if we can make something equally beautiful from what we already have?