Waste is not something Elke Baert feels should necessarily be discarded.. What about those gorgeous shavings that are left over after sharpening a pencil? The colour of the pencil is shown off to its best advantage here in a completely new way; whimsical curlicues fill a blank space and invite you to create something beautiful with them.

The jacquard fabric, woven and processed in France exclusively for Furore, refers to this idea with a playful nod through its vivid colours and 'hairy' texture. Elke Baert's conceptualisation of a pile of pencil shavings is palpable in the Branzo top, the Sienna skirt and the Patita pullover. The hues selected for these items allow for perfect mixing and matching with fabrics and colours from earlier editions.

The limited-edition Bini top and Dinira dress feature a decorative detail in front with contrasting piping that brings to mind the whimsical curlicues that are the colourful by-product of sharpening a pencil. The interplay of lines portrayed by a bunch of pencils dancing across a page was given concrete shape by Elke Baert in a chequered fabric in violet and pencil wood – inspired by the graphite tip of a pencil – with finely drawn lines in a warm shade of brown. Pumpkin, violet, lilac and light blue make up the reusable foundation of a beautiful set of pencils.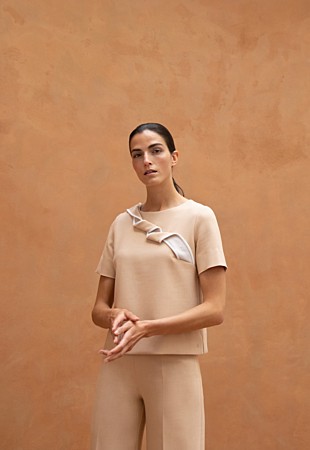 View other Limited editions: